Rolls Royce Dawn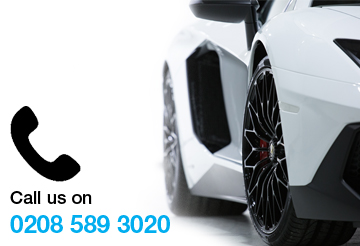 OVERVIEW
The Rolls Royce Dawn is a thoroughly modern car that's guaranteed to go down in automotive history. It's only the third post-war convertible car that Rolls Royce has ever produced, joining the Phantom Drophead and the Corniche in the small but memorable line-up.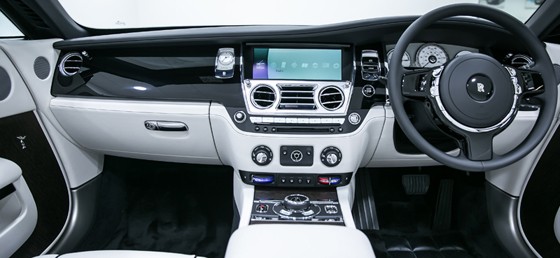 Although this car is at the small end of the Rolls Royce stable, don't let that put you off. Not only is it predictably luxurious, but the driving experience is surprisingly adept for a car of this size.
You have to wait a long time for a new Rolls-Royce to come around, but the Dawn has certainly been worth waiting for. It may, for now, be just the baby Rolls drop-top in the range, but it's the best one and manages to mix complete luxury with surprisingly adept driving characteristics.
Some of the car's best features are the enormous 6.6-litre twin turbo V12 engine, the gorgeous bodywork and the simply sumptuous interior for four people. What's most noticeable, however, is of course the fabric roof, which has been cleverly engineered to provide a ride that's just as quiet as any hardtop Rolls. In fact the phrase 'cleverly engineered' starts to look like a huge understatement once you appreciate that this is the quietest convertible on the market - and perhaps ever made.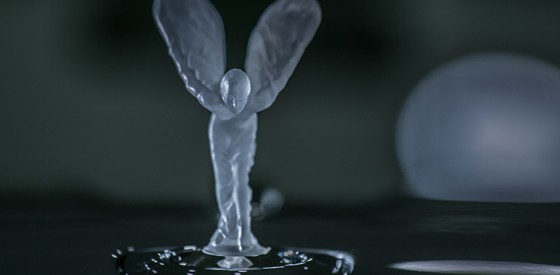 Given the newness, rarity and price tag of this car, very few people will be lucky enough to drive it. Be one of the first to experience life behind this most luxurious of wheels by hiring our Rolls Royce Dawn today.
PERFORMANCE
When this car was first announced, there was much speculation that it would simply be a Rolls Royce Wraith with the top chopped off.
In fact, although the car is based on the Wraith, the Dawn's bodywork is 80% new : the only carryover exterior parts from the Wraith are the doors and the grille surround.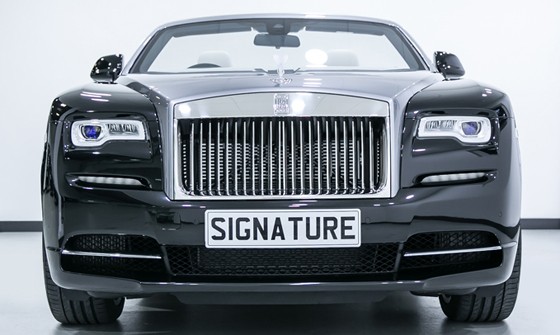 Importantly for performance, this means that the car has a different engine: the same twin-turbo 6.6-litre V12 used by the Ghost. The engine produces 563bhp at 5250rpm and 575lb ft at 1500rpm and drives the rear wheels through an eight-speed ZF automatic gearbox, which links with the sat-nav to automatically pre-select the next appropriate gear. This ensures the car body is rigid enough for all necessary manoeuvres - regardless of how competently you drive.
The engine and the aerodynamic shape of the car are the reasons that, despite it being two and a half tonnes, the car performs magnificently. Not only is there that phenomenal acceleration: the Dawn can get from 0-62mph in 4.9sec, before reaching a limited 155mph, but the car is also light, responsive and generally a joy to drive.

Critics are saying that this car delivers a ride like no other Rolls Royce - hire our Dawn to find out exactly why.

EXTERIOR
The Dawn is, unsurprisingly, a car that gets noticed. At over 5 metres long and almost 2 metres wide, it certainly makes a statement. Yet there's something innately elegant, fresh and delicate about this car, with flowing, curvaceous lines at the front and especially round the back.
It does take a few styling cues from the Wraith, but given that it's an 80% new car it's certainly more of a cousin than a sibling. The company's design chief, Giles Taylor, set out to create a car that was as beautiful with the roof up as it was down, with the intention of producing "two cars in one", and looked to the 1952 Silver Dawn Drophead, the last coachbuilt Rolls, for inspiration.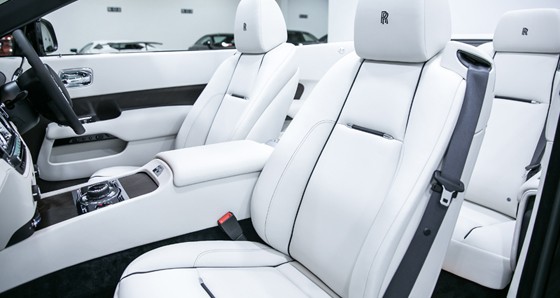 With this impressive background to draw upon, the styling of the Dawn was supposed to symbolise new promise, and we can't put it better than Rolls Royce themselves:
"Dawn's silhouette is characterised by a bold optimism, always poised and ready to go. Slender roof proportions and a strong, sweeping shoulder line give a sensuous yet contemporary look. A powerful front end points towards new frontiers, creating a vision of dynamism and progress, even when stationary."
One feature that Rolls Royce fans will love is the Spirit of Ecstasy perched on the front of the car, which can not only be retracted at the push of a button but which also lights up at night.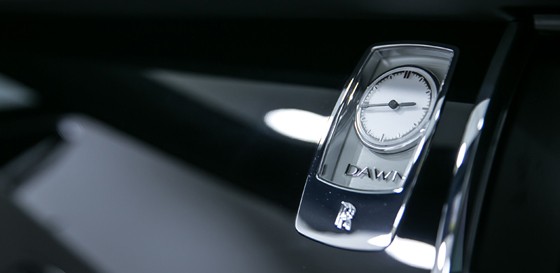 Whether the roof is up or down - and as it retracts in 21 seconds at speeds of up to 30mph, you can quickly choose between either - this is a car that you'll be happy to spend hours staring at, let alone driving.
INTERIOR
Rolls Royce prides themselves on diligently crafting every inch of a car by hand, and their attention to detail and love of their work shines through in the interior. There are Art Deco touches everywhere, making you feel like a 1920s aristocrat who's decided to take his motor for a quick spin.
Banks of leather create a soft line, fusing the luxurious interior with the soft roof and fluid exterior. Only the finest woods and leathers have been used, creating a truly indulgent cabin. The deck and rear are finished with handcrafted veneers that waterfall forward to meet the driver. Superior noise isolation, comparable to that enjoyed within a hardtop, lets you carry tranquillity with you.
Despite its retro looks and elegant feel, the interior also comes with all the mod-cons, meaning that you can take your music with you and create your own brand of Rolls Royce magic as you enjoy the fabled 'magic carpet ride'.
WHY HIRE
By hiring this car you get a chance to drive an exhilaratingly new, fresh Rolls Royce before anyone else -and save yourself the best part of £250,000 in the process. How could you say no?
New Content